Monday, November 29 2021 12:07 AM EST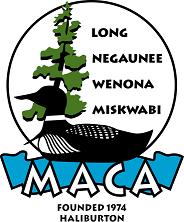 Welcome to MYMACA.NET, the Web site for the Miskwabi Area Community Association.
MACA represents the interests of cottagers and residents of Long, Negaunee, Wenona and Miskwabi lakes in Haliburton County, Ontario.
Here, you will find a schedule of MACA events for our area, as well as a list of useful links for cottagers and residents. You will also find a list of your Association's Board of Directors and a copy of the Association's Bylaws.
If you would like to join our Association, or if you are already a member and would like to renew your membership, visit the Membership page. You can join or renew online with your credit card.
To view recent editions of MACA's Newsletters, visit the MACA News page.
For any concerns about maintenance on the Municipally maintained roads in our area, please contact our Roads Representative John Ewing at MACA_Roads@outlook.com
Thanks for visiting, and we hope you will find MYMACA.NET a valuable resource for our community.
---
LATEST NEWS:


Click here for a copy of the Application Form.



---

WATER TESTING RESULTS - Courtesy of our Lake Steward, Tim Hagarty, the latest water test results for our four lakes are now available online. Results for Phosphorus, Calcium and Secchi (water clarity) are available here.


---





For more information and helpful tips on Lake Health, visit:

BESHORE HALIBURTON
CHA - Actions to Protect Your Lake
CHA - Algae and Algal Blooms
Ontario Ministry of Environment - Blue Green Algae
Haliburton Kawartha Health Unit - Blue Green Algae



---

SPRING 2021 NEWSLETTER - Get the latest news! The Spring 2021 MACA Newsletter is now available here.


---

BLUE GREEN ALGAE AWARENESS - MACA member and property owner Jeannette Dupuis recently spoke with Mike Jaycock of Canoe FM about blue green algae. Watch the interview here.


---

COVID-19 INFORMATION FROM DYSART ET AL - The Municipality of Dysart et al is posting regular updates on the COVID-19 situation, with important information for local residents and property owners. For more information, visit: https://www.dysartetal.ca/covid-19/ and check there regularly for updates.


---

MISKWABI WETLANDS VIDEO - The Importance of Wetlands - A video by Fleming College featuring the Miskwabi North Wetland. This 2-minute clip was produced as part of the joint MACA/Fleming Credit for Product project undertaken in the fall of 2019. Take a look!




---

NEW FIREWORKS REGULATIONS IN EFFECT - Dysart Municipal Council has passed a Fireworks By-law that regulates the dates and permitted times for the setting off of Fireworks within Dysart et al. Fireworks are only permitted on New Year's Eve and the weekends of Victoria Day, Canada Day and the Civic Holiday. Council also adopted a total ban of "Flying Lanterns" within the Municipality. Any person who violates the By-law is guilty of an offence and, upon conviction, is subject to a set fine of $500, as provided in the Provincial Offences Act.

The Municipality has provided an information sheet on the new bylaw, which you can download below. PLEASE NOTE: any complaints regarding the discharge of fireworks or release of flying lanterns must be directed in writing to the By-law Department, not the Fire Department.







---

TIP SHEETS FROM CHA - The Coalition of Haliburton Associations has provided three helpful fact/tip sheets for cottage owners. Click the links below to download PDF versions that you can print, and leave out as reminders for guests or renters:

Shoreline Tip Sheet - Ideas and recommendations for keeping your shoreline natural

Septic Tip Sheet - Information about how to make sure your septic system is healthy and functioning properly

Rental Tip Sheet - If you are renting out your cottage, here is a helpful package of information to leave for your renters




---

You can now JOIN or RENEW your MACA Membership Online! Payment is accepted by VISA, MASTERCARD or AMERICAN EXPRESS. For more information visit the Membership page.


---
Webmaster for MYMACA.NET: Andy Mosher